Funny thing, I did a list of this on Modern Alternative Mama, but have never done it HERE. I think it is time!
1. I hate when people fraudulently label things "random". These are NOT random facts. Things like this never are random. People think about them… and then label them "random." That's even less random then a code finding a "random" number such as when you set a cd  to "random" or go to "random.org". When you place things "randomly" most likely you are actually thinking about it and attempting to make it look random, which is often interpreted as "evenly spaced and NOT in a left to right line."
2. I'm a bit of a nerd. But, the last thing MIGHT have already told you that.
3. I have always enjoyed writing, but have always struggled with it. I hated english growing up. Why do I keep a blog again? My thing has always been drawing and numbers. Blogging has very little to do with either of those.
4. I would LOVE to take singing lessons!
5. I am an artist. That is actually what I would consider my talent. But, I've not drawn in a while.
6. I LOVE acting and have been in something like 15 plays. I lost count. I would love to get a chance to act again, but it's a little harder when you are no longer part of a highschool drama troupe or a large church that puts on productions. There is a local christian drama group, but I'm at a lost as to whether or not I should even try.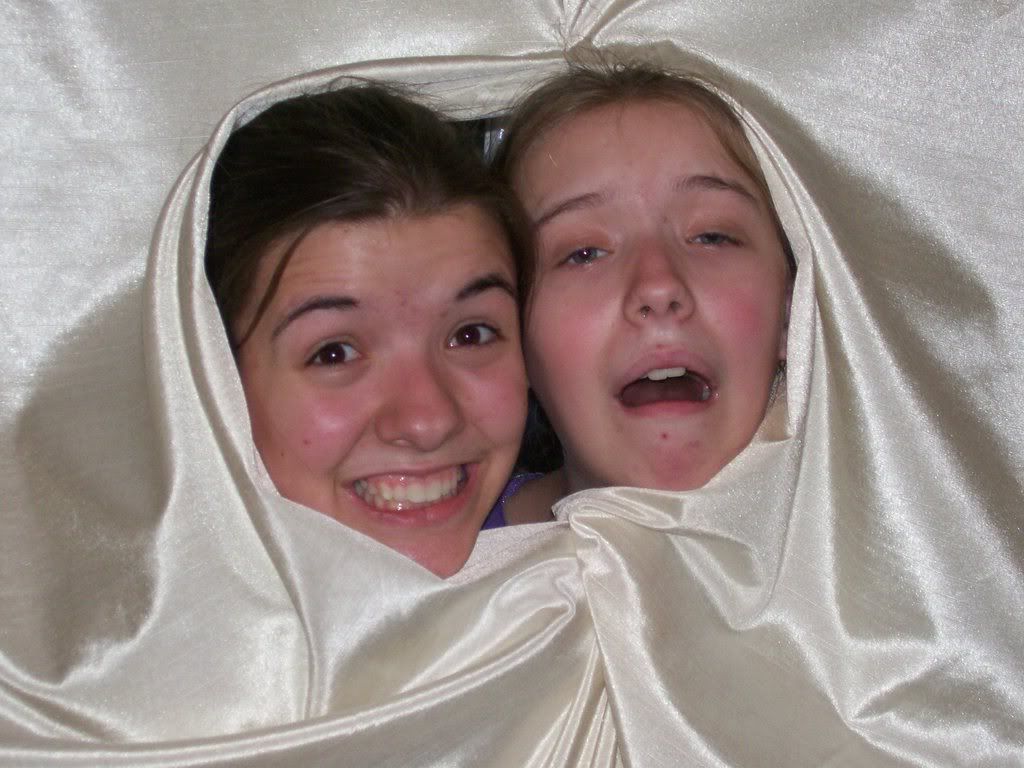 My sister Laura and me attempting to make the thespian faces. I just might get shot for putting this up.
7. I played the piano growing up. Not grand or even very good. But, I enjoyed it, and miss it.
8. As most teenage girls I loved photography, but never did anything with it or even learned how to take a decent picture. I wish I had so that I could "beautify" my blog through decent pictures.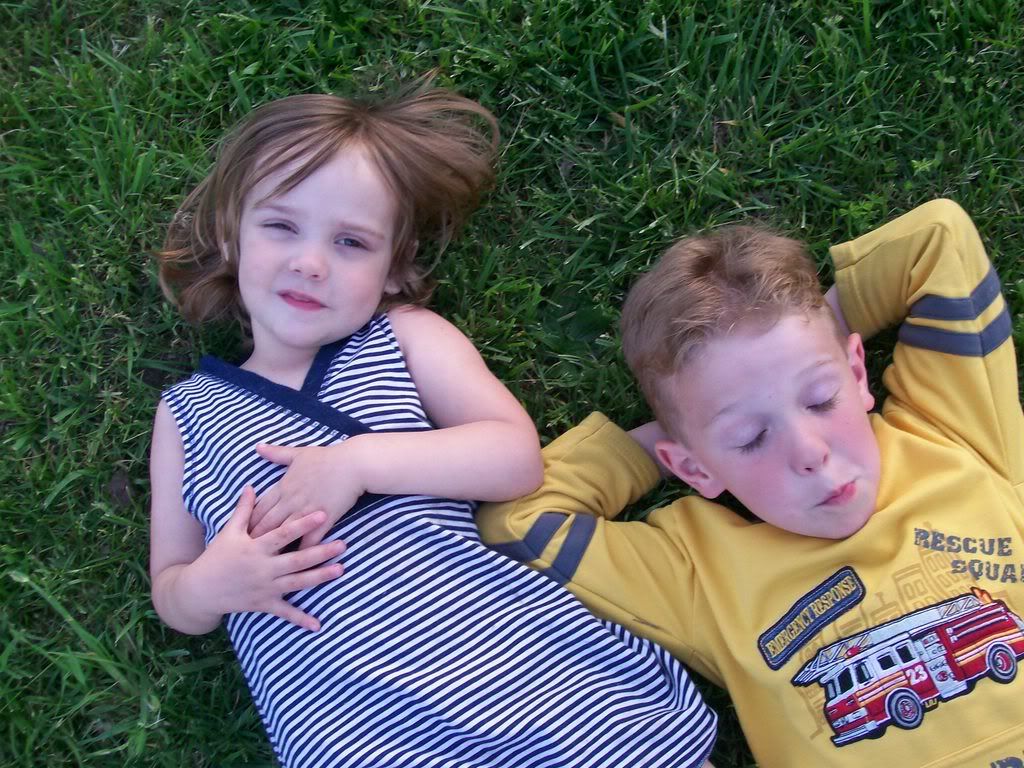 My littlest siblings being "models" for me four years ago.
9. I LOVE English Country and English Contra Dancing. Soooo much fun!!!!!!! I missed a dance Saturday! I hope to make the next one. I have not done it regularly since moving to Kansas.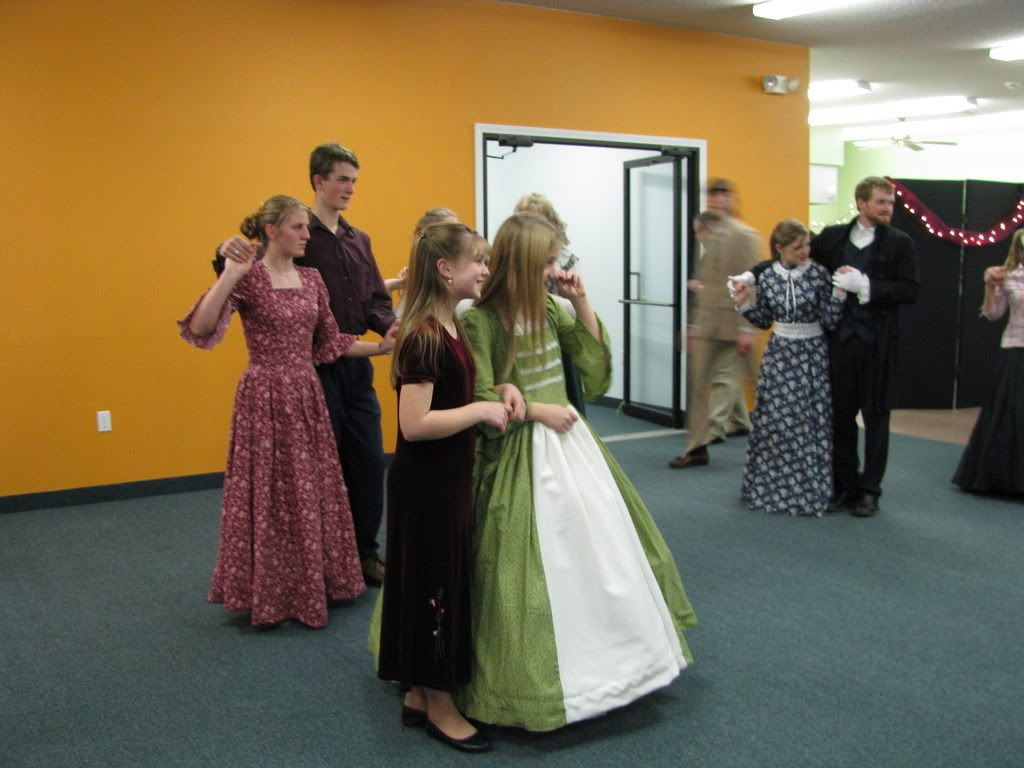 10. I have moved 10 times, and have even lived over seas in Germany, but I do not remember it because I was so young. I do remember trying to talk to a little boy at a playground… and the 'idiot' was NOT speaking correctly.
11. I did not read until I was about 7 (maybe 8) because I was sooooo clueless. I would draw my letters with curlicues (they were pretty!) but would have no idea what the letter was called. I would sound out words "d—ow—-n" and my LITTLE sister Laura would yell " 'down' Debra 'down'!"
12. I have 6 sisters and 1 brother. True story.
My siblings, brother-in-laws, husband and kids, parents, and nieces and nephews. 
13. I was homeschooled as were/are all my siblings.
14. I dream of learning belly dance, well more then I already have since I do know a bit.
15. I LOVE North Carolina Style BBQ (but I do leave off the coleslaw).
16. I really enjoy going to Pizzerias. Pizzas should always taste like they do at Pizzerias.
17. I have gotten out of practice, but I enjoy story telling especially to little kids. I can not wait till Christopher is at the age where he will appreciate a good story.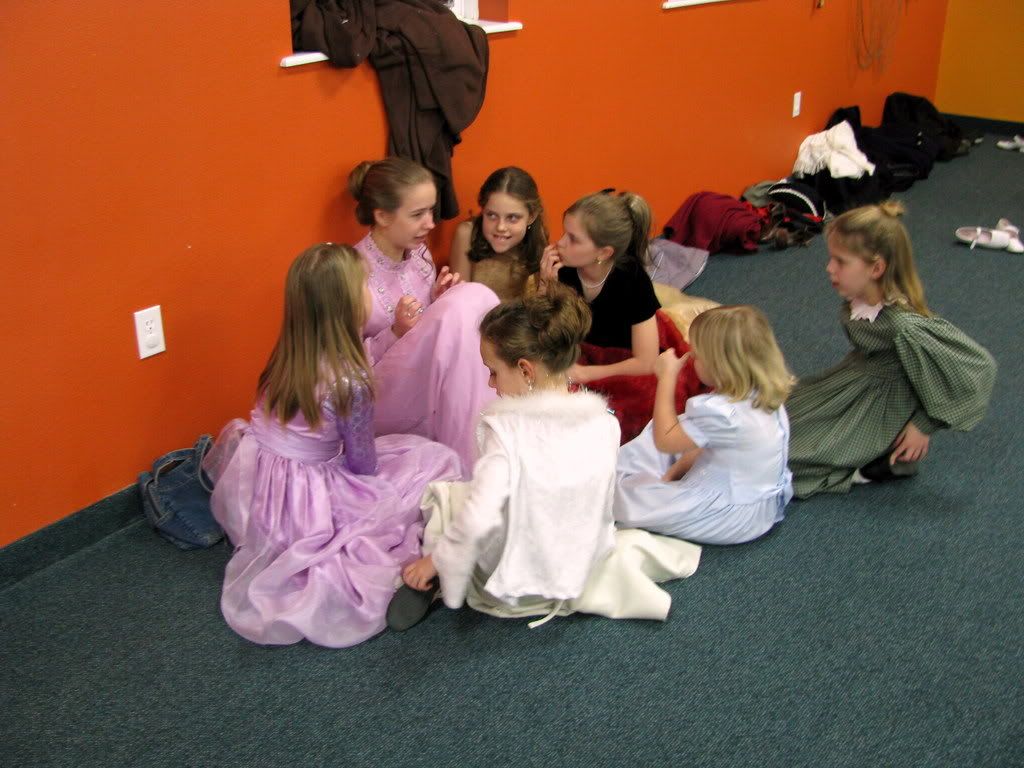 This is actually my sister Laura telling a story to a swarm of little girls, but this could just as easily be me. My whole family enjoys the art of story telling.
18. I love books, but do not read NEARLY as much as I'd like to.
19. I can get pretty creative in the kitchen. This has lead to some "interesting" meals, but also some super wins. Thankfully, I have learned a thing or two since I tried making a soup out of canned mackerel and boxed au gratin potatoes. That was way before Mark met me… which might just be a good thing. But, I did have a friend over that night. Poor Jeanette.
20. I have been kissed by a frog. I was posing with one pretending to kiss is, being the dork that I am, and it actually jumped up a bit and it's lips touched mine. I have a picture of it, just not sure where. It was two years before I met Mark.
21. RIGHT before I met Mark I told my Mom I was not ready for any sort of relationship. I got married a year later.
22. Mark and I got married on a Sunday afternoon. Why? We got married the DAY after Mark graduated so that we could go on a honeymoon, get back the next weekend to see his cousin get married, and move the NEXT weekend. That Sunday, our first Sunday at the church we first attended as a couple in Wichita, was out one year anniversary of knowing each other.
23. For my 18th birthday Mark gave me an art set. I was SOOO disappointed. Not because it was a bad gift, but I was kind of hoping for a proposal. He proposed about a month later at his families' Christmas.
Yes, those ARE pictures of us a few days before we got engaged. Yes, we look like babies. We were. Yes, we were married a few months later and had a kid less then a year and a half later. No, I do not think we were too young! No, Mark is not creepy looking in real life.
24. I had a slew of things I wanted to be when I grew up…. everything from actress, to author, to artist, to mathematician. Silly me. Funny, being a stay at home mom and blogger never really entered my head. Well, stay at home mom did, but I never romanticized it like I did… doing math. 
25. I would STILL love to do art professionally and write a book. In fact my husband is 'forcing' (strongly encouraging) me to write the one down that has been in my head for years in hopes that I can actually SLEEP instead of working on the next part in my head.